Artist Feature: John Alefaio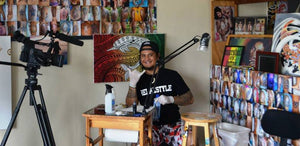 John Alefaio is a Marshallese tattoo artist known for drawing traditional Micronesian motifs and tattoos. His unique style is inspired from living in Majuro, Tuvalu, and Fiji. He has three distinct designs with Green Banana Paper so far: Tribal Sun, Tribal, and Pacific.
Alefaio is an artist and entrepreneur. He began tattooing at a young age informally on his friends. His business grew into Marshall Arts Tattoo. Alefaio currently designs t-shirts, backpacks, custom graphic designs, and sells art prints. 
Polynesian Tattoo Awards: International Competition for the Best Tatau Artist
Matt Simpson, Founder of Green Banana Paper, and Alefaio met in 2007 and developed a friendship through their love for the ocean and art. They share inspiration to use creativity and entrepreneurship to enable a lifestyle chasing waves and fishing throughout the islands when the conditions peak. When asked why he hired Alefaio to design wallets for Green Banana Paper, Simpson replied,
"His designs are some of the best I have ever seen in the Pacific. It's a great friendship and we're just supporting each other."

John Alefaio's Green Banana Paper Collection

Look out for John Alefaio's work in Pohnpei, Majuro, and at Green Banana Paper in Kosrae! 
1 Response
Leave a comment
Comments will be approved before showing up.