Green Banana Paper and UN Sustainable Development Goal 8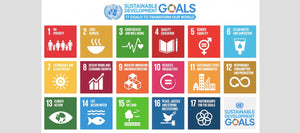 This is a piece in a segment examining the UN Sustainable Development Goals (SDGs) and Green Banana Paper. All information about the SDGs is based on information from the Sustainable Development Goals Knowledge Platform.
Sustainable Development Goal 8: Promote sustained, inclusive and sustainable economic growth, full and productive employment and decent work for all.
Target 8.3: Promote development-oriented policies that support productive activities, decent job creation, entrepreneurship, creativity and innovation, and encourage the formalization and growth of micro-, small- and medium-sized enterprises, including through access to financial services
Indicator 8.3: Proportion of informal employment in non‑agriculture employment, by sex
Target 8.4: Improve progressively, through 2030, global resource efficiency in consumption and production and endeavour to decouple economic growth from environmental degradation, in accordance with the 10-year framework of programmes on sustainable consumption and production, with developed countries taking the lead 
Indicator 8.4.1: Material footprint, material footprint per capita, and material footprint per GDP
Indicator 8.4.2: Domestic material consumption, domestic material consumption per capita, and domestic material consumption per GDP
What to know:
Sustained and inclusive economic growth is necessary for achieving sustainable development. The global annual growth rate of real GDP per capita increased by 1.3 per cent in 2014, a significant slowdown compared to 2010 (2.8 per cent growth) and 2000 (3.0 per cent growth). Developing regions grew far faster than developed regions, with average annual growth rates in 2014 of 3.1 per cent and 1.4 per cent, respectively.
The global unemployment rate stood at 6.1 per cent in 2015, down from a peak of 6.6 per cent in 2009, mostly owing to a decline in unemployment in the developed regions. Unemployment affects population groups differently. Globally, women and youth (aged 15 to 24) are more likely to face unemployment than men and adults aged 25 and over. In all regions, except Eastern Asia and the developed regions, the unemployment rate among women is higher than that of men. In almost all regions, the rate of youth unemployment is more than twice that of adults.
While economic growth and employment are important for economic security, access to financial services is an essential component of inclusive growth. Between 2011 and 2014, the proportion of the world's adult population with an account at a financial institution or a mobile money service provider increased from 51 per cent to 62 per cent, meaning that 700 million adults became account holders during this period. Financial exclusion disproportionately affected women and the poor. The proportion of women who are account holders is 9 percentage points lower than the proportion of men who are account holders. Moreover, the proportion of account holders among the poorest 40 per cent of households is 14 percentage points lower than among those living in the richest 60 per cent of households.
Progress as of 2019:
Inclusive and sustainable economic growth can drive progress and generate the means to implement the Sustainable Development Goals. Globally, labour productivity has increased and unemployment is back to pre-financial crisis levels. However, the global economy is growing at a slower rate. More progress is needed to increase employment opportunities, particularly for young people, reduce informal employment and the gender pay gap and promote safe and secure working environments to create decent work for all.
The global unemployment rate has finally recovered from the global economic crisis. In 2018, the global unemployment rate stood at 5.0 per cent – matching pre-crisis levels. Youth were three times more likely to be unemployed than adults.
Green Banana Paper's role:
Green Banana Paper is a small enterprise transforming local banana waste material into high-quality vegan fashion accessories. A key element of our process is exporting our products, which helps stimulate cashflow to our remote island in the Pacific Ocean. We built our eco-factory and refined our manufacturing process to utilize natural resources and minimize our environmental impact throughout production.
A key component of our company's story is employing young people who would otherwise face a decision to live unemployed in their home culture, or move to the United States (under the Compact of Free Association) and likely work a minimum wage job.
The Sustainable Development Goals mention access to banking and financial services. We help our employees gain access to these resources, and the effects are extremely significant. Green Banana Paper was originally formed to create decent work and help promote economic growth in Micronesia. On a daily basis, we are committed to helping our employees and local banana farmers, as well as our wider island family take steps in sustainable development.
Leave a comment
Comments will be approved before showing up.