Matt's Story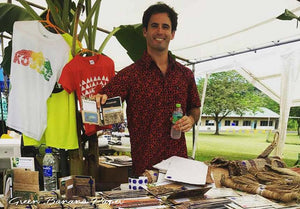 American Matt Simpson arrived in Kosrae, Micronesia, in 2008 as a young volunteer teacher at the local high school.
Matt Simpson fled chilly New England, his teaching degree in hand and in search of a tropical and remote island lifestyle. He lived on Wotje Atoll in the Marshall Islands as a volunteer high school teacher with the WorldTeach program. The following year he moved to Kosrae, Micronesia, and coordinated the WorldTeach program on the island. He taught at the single high school in Kosrae for the following four years. Through this cultural immersion he learned new languages, customs, and lifestyles. 
As a high school teacher, Matt observed that many of his former students were unemployed or in the USA working for minimum wage. There were strikingly few businesses and job opportunities on the island.
"While a lot of my graduating students would leave the island in search of jobs or for further education, many would stay on Kosrae, jobless and unable to afford to support themselves or their families. The younger generations are basically forced to trade their beautiful home and families for minimum wage jobs in America. Having left such a life in America myself, I wanted to help create employment opportunities for as many young people as possible, right here on Kosrae."
Green Banana Paper is a labor of love.
"I set out to find a natural resource, already in abundance, which could be manufactured into high quality finished goods. The products needed to be lightweight, non-perishable, and sustainable. As it turns out, I found the answer in banana trees, and after some serious research, the idea actually checked out. I called my Mom who is a weaver and she said, 'There's fiber inside those banana trees, and people just throw it away!' "
It's no secret that there are more banana trees than people in Kosrae. Matt took to YouTube and Google to learn everything about papermaking. He now has 17 books about papermaking on his small bookshelf to compensate for having no previous knowledge of the task. He had all of the factory equipment custom made and shipped out to the western Pacific Ocean. It has taken years to learn everything and fine-tune the process. It certainly isn't a get rich quick scheme for him, it's a passion. Matt Simpson is a CEO who is all about balancing work and play. If he's not at the factory, then he's most likely in the ocean!
5 Responses
Leave a comment
Comments will be approved before showing up.