A Break in the Bananas: The Sunscreen Dilemma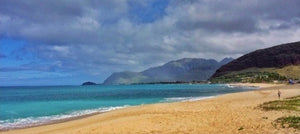 It can be tricky to understand the ingredients all sorts of products on the market today, but it's important to be sure we are not accidentally exposing hazardous ingredients to our bodies and into rivers, lakes, and oceans. The tropical paradise of Hawaii just banned some of the world's most popular sunscreens. Why? The very chemicals that protect our bodies from the sun are killing coral reefs.
There are two categories of sunscreen: mineral and non-mineral. 
Mineral sunscreens contain zinc or titanium oxide as the active ingredient which act as reflectors and create a physical barrier between your body and UV rays. Zinc is particularly known to be the safest and most effective mineral sun protection. In their natural state, zinc and titanium do not pose any health or environmental risks.
Non-mineral or chemical sunscreens contain chemicals such as oxybenzone, ocinoxate, and avobenzone which absorb UV rays. The majority of common sunscreens perform in this way. However, the Haereticus Environmental Laboratory classifies oxybenzone as "hazardous to the aquatic environment, long-term hazard." Scientists have found that oxybenzone deforms coral larvae, thus preventing coral growth and causing extensive destruction to pristine coral reef ecosystems. In addition to coral, oxybenzone can deform the eye, heart, and spine, or completely prevent the development of fish embryo.
Oxybenzone is not the only harmful chemical in sunscreens. Octinoxate, avobenzone, avobenzine, ethylhexl, methoxycinnamate, homosalate, octisalate, and octocrylene are all linked to coral bleaching.
On May 1, 2018 the Hawaiian legislation passed a law to prohibit all sale of sunscreen containing oxybenzone and ocinoxate, two chemicals directly related to coral bleaching. David Ige, Governor of Hawaii signed the "Sunscreen Bill" on July 3, 2018. This law will go into effect on January 1, 2021. 
Popular brands such as Hawaiian Tropic and Banana Boat will be prohibited from selling their products, and manufacturers of some 3,500+ sunscreens that contain oxybenzone and octinoxate will need to reassess the environmental effect of their products. Sunscreen seeps off our bodies in the water and leaches nutrients from corals. This results in the bleaching and death of corals. In a New York Times article published on May 3, 2018 regarding this topic, journalist Elain Glusac wrote,
"An estimated 14,000 tons of sunscreen is believed to be deposited in oceans annually with the greatest damage found in popular reef areas in Hawaii and the Caribbean. In 2015, the nonprofit Haereticus Environmental Laboratory surveyed Trunk Bay beach on St. John, wherevisitors ranged from 2,000 to 5,000 swimmers daily, and estimated over 6,000 pounds of sunscreen was deposited on the reef annually. The same year, it found an average of 412 pounds of sunscreen was deposited daily on the reef at Hanauma Bay, a popular snorkeling destination in Oahu that draws an average of 2,600 swimmers each day."
Hawaii is setting a standard for environmentally-responsible recreation. As fellow islanders, we join the efforts to improve the health coral reefs around the world by promoting reef-safe "mineral / physical" sunscreens.
Here are a few recommended reef-safe sunscreens: Mama Kuleana, Avasol, Manda, Tropic Sport, Raw Elements, Badger Balm. Prefer to shop on Amazon? Look for Raw Elements, Manda, Badger Balm, Blue Lizard, Kiss My Face, Bee Sunny, Goddess Garden, SPF Rx.
Photograph of the coral reef in Kosrae by Paul Hogger
For further information regarding the health of our world's oceans and coral reefs, embark on a journey into the sea with the film Chasing Coral.
Hawaii folks! Meet up with Sustainable Coastlines Hawaii on August 18 for a community clean-up day at Mo'omomi, Molokai.
*cover photo courtesy of Ryan Meyer
Leave a comment
Comments will be approved before showing up.